At Christmas, we celebrate, but we stay smart because nowadays, even the lights can be connected to the smartphone and controlled from an application. We can thus create the most beautiful Christmas lighting. This article tells you everything you need to know about the best time of the year:
When should Christmas lights be installed?
There is no official launch date for the installation of the Christmas decorations. You can of course choose the first day of advent to decorate or to base yourself on the religious calendar. It stops on the last Sunday before the start of the advent period. In the end, it all depends on the day you want to get in the Christmas mood.
When should Christmas lights be removed?
The day of the epiphany marks for many decoration fans the end of the Christmas period. It's January 6. Anyone who does not want to part with their pretty lights should know that according to the religious calendar, the Christmas period ends on February 2. It is the celebration of Candlemas. It is therefore not a problem if everything remains decorated until this date.
What is allowed for Christmas lights?
The Christmas period is so magical that nothing is prohibited in terms of lighting. In principle, anything goes because holiday lights are a recognized and widespread tradition. There is even a court decision on this subject: a landlord wanted to prohibit his tenant from hanging a light garland, but he did not succeed, to the delight of fans of multicolored light garlands.
Advice: in case of doubt, contact your landlord so that he does not feel left out. And maybe you will make a skeptic fall for Christmas fever thanks to your enthusiasm.
But one thing is certain: you shouldn't disturb anyone with your Christmas lights. The flashing decoration and even accompanied by music must be installed so as not to interfere with the sleep of your neighbors. Because if the neighborhood is pulled for the fifth time from sleep by yet another "Jingle Bells", it will be anything but pleasant for you.
And another piece of advice: hang the very bright and noisy decorations preferably between your four walls. Install them outside only if your property is large enough to not disturb the neighbors.
Christmas lights for living spaces:
As you may suspect: the choice becomes more and more difficult over the years. But also intelligent. Because home automation does not stop at anything, not even the Christmas party. You can now order your light chain using a smartphone application or change the color of the star on your Christmas tree using a remote control.
But since the classics are also very popular during the holiday season, you will find a range of Christmas ligjts for sale:
secure LED candles
very pretty Christmas stars
multicolored and intelligent light garlands
Christmas stars and window decoration
classic light arcs
pretty silhouettes and bright figurines
Christmas lights for the garden, terrace and balcony
The Chirstmas lights for the garden should of course not be missing. Do you want to take out the heavy artillery? Or impress the neighborhood? So you need a Christmas figurine to reach your goal. The tubes and light curtains also make their small effect in the garden. But think of suitable IP protection. A minimum IP44 rating is absolutely necessary. It protects the lighting against foreign bodies of more than 1 mm, as well as against splashing water.
Do you find an illuminated zoo in your own garden a great idea? Then install moose, polar bears, birds, reindeer and seals on your winter meadow. But Santa Claus and snowmen also look good on the balcony and patio. The LED silhouettes are particularly sober and clearly visible at night. Your imagination knows no bounds.
Christmas lights for the window and the window sill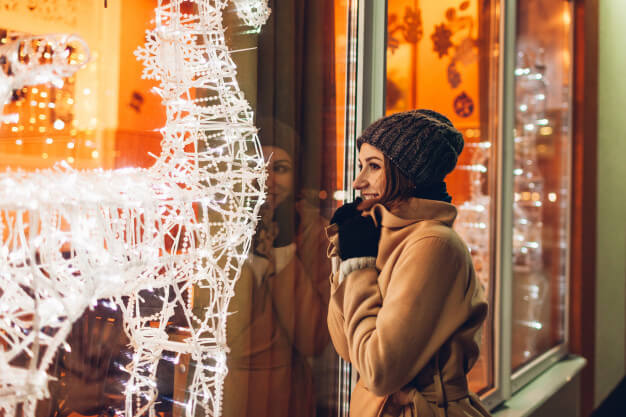 The advantage of window decoration: it decorates both indoors and outdoors. Because, as long as the shutters remain open, neighbors and pedestrians can admire your light creation. In the evening, the effect is particularly pretty. You are also spoiled for choice here, and the selection is huge. Some ideas: the light bows are very pretty at the window, as are the Christmas stars. It's up to you whether you hang them or put them on your window sill. Perhaps you will opt for a light curtain or for a small decorative figurine . The best is to make your choice in peace.
A Christmas decoration with specific characteristics
Do you know exactly what you want? Perfect, this allows you to quickly find what you are looking for, for example the Christmas decor:
with remote control
Light your string lights and LED candles or your advent calendar by remote control from your sofa? No problem. If it's important to you, you should place this feature at the very top of your list. Adults and children will certainly have fun. And no more crawling under the Christmas tree to plug in the light garland. With the remote control, your tree can shine brightly with just one click.
with battery
Don't want bulky cables? If you are a big fan of Christmas decorations and you go to the end of things, you can end up with a multitude of cables and plugs. To avoid this situation, just look for battery operated Christmas lights. There are plenty of them on the market. Very practical and flexible.
with programmer or timer
When the evening comes, don't you want to go around the house and turn on all the Christmas lights one by one? It would be far too tiring and impractical. So you should opt for a timer or timer that allows you to program your lights as you like. And, the presence of light means that the house is inhabited and burglars will not approach it. A very useful side effect.
Do you need replacement bulbs for your Christmas lights?
There is nothing more annoying than going for your Christmas decoration with a heart full of joy and realizing that the bulbs are burnt out. But you really care about your old light garland that you have used for so many Christmas parties. So simply order a set of spare bulbs.
Tip : if you switch from incandescent bulbs to LED bulbs, change them all. Only then will everything work well.
You can quietly browse our subcategory "Replacement bulbs". If you have any questions on this subject, our advisers are at your disposal.